As soon as you, the home owner, registers an interest with our company we will contact you, normally within 24 hours. We will then arrange for a free estimate to be carried out for Brighton & Hove local area property owners.
After our initial survey visit, you can expect to receive a written estimate or quotation, by return email or post.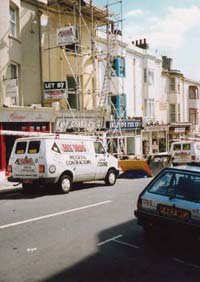 Our quotations are clear and comprehensive, giving a fixed cost for the highly specified works which conform to British Standards & the Lead Sheet Association's Codes of Practice. These works are always guaranteed, unless otherwise stated.
Following the customers' acceptance, we commit solely to their project. We give an accurate start and expected completion date (weather permitting), carrying out each project or repair with the minimum of disturbance and inconvenience possible. Should any additional essential works be revealed, we will always endeavour to discuss with the customer prior to incurring any additional costs.